Childcare/​Babysitting Services
Swimming Pool (Indoor/​Outdoor)
Luxurious comfort with all the styles and traditions of East Africa
Immerse yourself in the culture and tradition of East Africa at the charming Amboseli Sopa Lodge. Get up close and personal with elephants, giraffe, and other members of the "big five" while relaxing at this luxurious sanctuary. Nestled in 200 acres of wooded Maasai land, this lodge sits on the foot hills of Mount Kilimanjaro. Enjoy jaw-dropping views of the famous snow-capped mountain while you lounge by the sparkling outdoor pool. 
Admire the lodge's traditional East African style - a mix of warm colors, wooden accents, high ceilings, and beautiful cultural artwork. Spend your afternoon enjoying a nature walk, bird watching, or participating in a traditional dance.
When you get hungry, indulge in delicious traditional cuisine at Kibo Restaurant. Enjoy the cozy atmosphere of a traditional African hut while you dine around a central fireplace. Feeling something a little lighter? Head to Mawenzi Terrace, the outdoor dining area, and try some authentic dishes while taking in the scenery. After dinner, unwind with a cocktail at one of the few on-site bars. Head back to your spacious room, sprawl out on your large comfortable bed, and rest up for your next day of adventure. 
Amboseli Sopa Lodge
Kenya
Amboseli, Kenya

See all packages that include Amboseli Sopa Lodge
Please note that some amenities may be restricted or unavailable due to local ordinances or sanitary best practices.
Amboseli Sopa Lodge
Luxurious comfort with all the styles and traditions of East Africa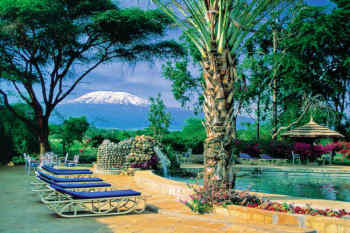 Start over
On a full map