Masai Mara National Reserve, Kenya
Masai Mara Sopa Lodge
Childcare/​Babysitting Services
Swimming Pool (Indoor/​Outdoor)
Dry Cleaning/​Laundry Service
A Luxurious Gem in the Wild
Immerse yourself in the culture of Kenya at the Masai Mara Sopa Lodge that marries stylish comfort to authentic cultural tradition. Step into the lodge and notice its cathedral-high ceilings, warm colors, wooden accents, and traditional African decor. Located on the slopes of the Oloongams Hills, its rich surrounding landscape is covered in fauna, from huge cacti to sweet smelling jasmine flowers.
After a day of adventuring through the bush, cozy up around the massive central fireplace in the lounge and admire the beautiful murals that coat the walls. Enjoy a refreshing drink on the outdoor veranda, take a pleasant swim in the large outdoor swimming pool, or relax with complimentary afternoon tea or coffee. Share laughs over a board game, embark on a nature walk, or take a look around the interesting handicraft market. When you work up an appetite, head to the on-site restaurant and indulge in mouthwatering local cuisine. Nice night? Why not dine outside? After dinner, return to your spacious, well-decorated room and sprawl out on your large, comfortable bed. Rest up for your next day of wild adventure!
Masai Mara Sopa Lodge
Narok County
Olemtitia, Ololaimutiek
Masai Mara National Reserve, Kenya

See all packages that include Masai Mara Sopa Lodge
Please note that some amenities may be restricted or unavailable due to local ordinances or sanitary best practices.
Masai Mara National Reserve, Kenya
Masai Mara Sopa Lodge
A Luxurious Gem in the Wild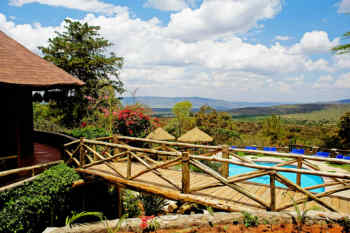 Start over
On a full map