Dry Cleaning/​Laundry Service
Traditional Moroccan style meets modern luxury
Relax in style at the luxurious Zalagh Kasbah Hotel, located just minutes from Marrakesh's most bustling square and marketplace. As soon as you walk through the doors of the hotel, you'll notice ornate decor that boasts rich colors, golden accents, and traditional influence with a modern flair. Settle into your spacious room and notice its contemporary style and luxurious amenities that include WiFi, a flat-screen TV, and much more.
Start exploring and hop on the free hotel shuttle to Jemaa el Fna. After an exciting day, make your way back to the hotel and cool off with a refreshing dip in the sparkling outdoor pool. Pamper yourself with a traditional Moroccan spa treatment or unwind in the jacuzzi. When you work up an appetite, indulge in a delicious meal at the on-site restaurant and enjoy an evening drink from the poolside bar.
Zalagh Kasbah Hotel
Ave Mohamed VI
Marrakesh, Morocco

See all packages that include Zalagh Kasbah Hotel
Please note that some amenities may be restricted or unavailable due to local ordinances or sanitary best practices.
Zalagh Kasbah Hotel
Traditional Moroccan style meets modern luxury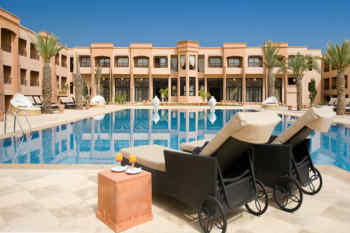 Start over
On a full map