Sabi Sands Private Game Reserve, South Africa
Sabi Sabi Bush Lodge
Childcare/​Babysitting Services*
5-star safari lodge
Applying contemporary hotel trends with traditional African style, the Sabi Sabi Bush Lodge is the epitome of hospitality and excellence. This 5-star safari-side hotel features an array of different villas and suite types, all designed to cater towards the needs of various guests. Designated in the Sabi Sands Private Game Reserve, guests will appreciate the impressive blend of nature, luxury, and adventure that this hotel proudly boasts. All 20+ of the lodge's suites and villas, as well as its spa, pool, lounges, and restaurant/bar simply seal the deal.
Each room is equipped with a private window, air-conditioning, a mini-fridge, and internet access. Additional amenities are based on type of suite booked. Guests with kids may request child/babysitting services for a surcharge. There's also a fun children's club on-site.
A breakfast buffet is available each morning. Local and international meals are served at set times per day, and can be ordered at the hotel's restaurant. Ask staff for specific dietary needs.
Enjoy an exciting adventure into the outdoors with a game drive provided by the hotel. Otherwise, soak in the warm African sun via the hotel's outdoor pool and lounging areas.
Sabi Sands Private Game Reserve, South Africa
Sabi Sabi Bush Lodge
5-star safari lodge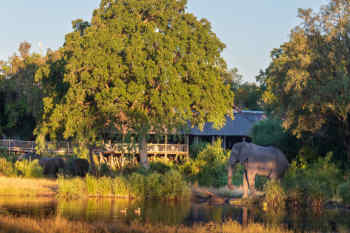 Start over
On a full map