Enjoy a moment of stillness within a ceaseless city
Providing convenient access to the Royal Palace, the National Museum, and Wat Phnom, the Pacific Hotel in Phnom Penh offers city comforts, such as air conditioning, WiFi, transportation to the airport, and views of the city. Sitting in a busy cit like Phnom Penh, find a moment of quiet in the Pacific Hotel.
Private bathrooms with bathtubs, a minibar, and a 24-hour desk wait to offer comfort and assistance for any traveler. Some rooms provide a view over the city, and any tourist looking for temples, museums, and markets will find the best place to stay is here.
Pacific Hotel
234 Preah Monivong Blvd (93)
Phnom Penh, Cambodia

Pacific Hotel
Enjoy a moment of stillness within a ceaseless city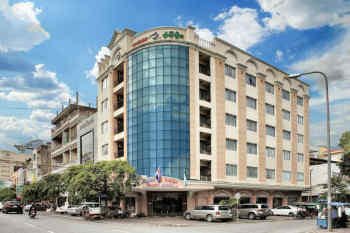 Start over
On a full map