Childcare/​Babysitting Services*
A captivating taste of Cambodian hospitality
Delight in the excellence of Treasure Oasis. Boasting top-quality accommodations, engaging design, and secluded opulence. Indulge in sumptuous spa treatments and exceptional dining options without ever leaving the property! Take a dip in the swimming pool or enjoy a refreshing cocktail at the poolside bar. Steeped in rich cultural tradition, the hotel showcases fine Cambodian architecture. Set out to explore the wonders of the Angkor Archeological Park, golfing, and more! When you lay down at night in your cozy guestroom, you can be sure you're experiencing the height of Khmer hospitality. 

Treasure Oasis Hotel
National Road No. 6
Sangkat Svay Dangkum
Siem Reap, Cambodia

See all packages that include Treasure Oasis Hotel
Please note that some amenities may be restricted or unavailable due to local ordinances or sanitary best practices.
Treasure Oasis Hotel
A captivating taste of Cambodian hospitality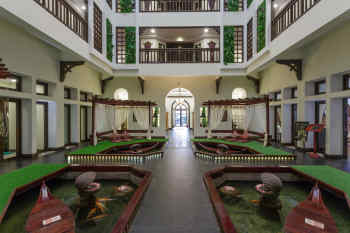 Start over
On a full map