Peaceful paradise with modern amenities
Escape to pure peace and serenity, where golden sands meet the bright blue Bay of Bengal. The beautiful MGM Beach Resorts boasts luxury and elegance, yet still maintains a laid-back vibe. Get lost in the lush grounds, filled with towering palm trees and colorful flowers. Admire traditional architecture, adorned with Mangalore-tiled sloping roofs and cultural artwork. After checking-in with the friendly reception team, head to your room, where relaxation awaits. Step into ample space, air conditioning, WiFi, LCD TV, and much more. Take a nap on your large cozy bed, then let the fun begin!
Unpack your swimsuit and head to the private picture-perfect beach. Lounge in the shade, or soak up the hot sun with a cold drink in-hand. Take a dip in the azure blue waters and feel the sand squishing between your toes. After the beach, jump in the pool! Float atop the sparkling water and gaze out at the coconut trees that surround you. Have some energy to burn? Take a scenic run along the jogging track, or work all your stresses away in the state-of-the-art indoor gym. Pamper yourself with a spa treatment, or simply unwind in the sauna or Jacuzzi.
In the evening, take in the star-studded sky with a BBQ by the beach. Swirl a cocktail, indulge in deliciously grilled food, and take in the majestic scene of the beach at night. If you'd rather head inside, watch the waves from the trendy lounge bar and restaurant, which boast mouthwatering cuisine, craft cocktails, and live music!
MGM Beach Resorts
1/74, East Coast Road
Muttukadu
Tamil Nadu
603112, Mahabalipuram, India

MGM Beach Resorts
Peaceful paradise with modern amenities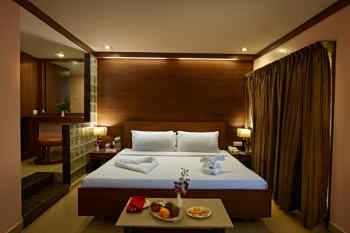 Start over
On a full map