Childcare/​Babysitting Services*
Dry Cleaning/​Laundry Service*
Balinese tradition meets natural beauty in Pelaga
Nestled in Pelaga Village, this stunning resort features lush green grounds filled with soaring palms, vibrant flowers, and fruit trees. From certain areas of the resort, you can enjoy stunning views of Mount Agung! Should you have any questions or concerns during your stay, the tour desk offers currency exchange, transportation assistance, and more. There is even an on-site shop selling local agricultural products!
Once you're all settled into your spacious room, explore the resort's amenities. Take a refreshing dip in the sparkling outdoor pool, treat yourself to a traditional Balinese massage, or embark on a tranquil journey in a yoga session. When you work up an appetite, indulge in delicious local cuisine at either of the two on-site restaurants: Lotus or Tunjung. 
Bagus Agro Pelaga Resort
Jalan Raya Puncak Mangu
Desa Pelaga, Kecamatan Petang
80353, Bali, Indonesia

See all packages that include Bagus Agro Pelaga Resort
Please note that some amenities may be restricted or unavailable due to local ordinances or sanitary best practices.
Bagus Agro Pelaga Resort
Balinese tradition meets natural beauty in Pelaga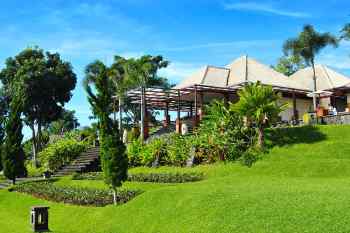 Start over
On a full map