4-star hotel complex overlooking Halong Bay
Saigon Halong Hotel is a 4-star hotel complex offering stunning views of Halong Bay, Vietnam's UNESCO-certified natural wonder. Nestled on a sprawling green complex, the hotel consists of a 15-story building, five villas, an outdoor swimming pool, tennis court, spa, and restaurants. Easily explore Halong Bay and Halong City straight from the hotel.
Bright and airy rooms feature wood floors, spacious bathrooms, and modern amenities like air conditioning and high-speed WiFi. Enjoy a relaxing massage or sauna time at the spa, then enjoy the fresh flavors of Vietnamese cuisine at the restaurant. If you're feeling bold, the hotel also has karaoke for those wanting to belt out a few tunes.
Saigon Halong Hotel
168 Ha Long Road
Bai Chay Ward
Quang Ninh Province
Halong City, Vietnam

Saigon Halong Hotel
4-star hotel complex overlooking Halong Bay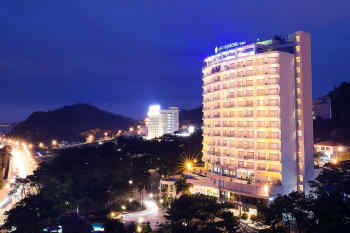 Start over
On a full map