Thistle Hotel Marble Arch (formerly Amba)
Internet Access (Free Wi-Fi, Dial-Up)
Tranquility, Style, and Accommodation That Goes Above and Beyond
Immerse yourself in English elegance at this beautiful, ideally located hotel. In just steps, find yourself at Park Lane, Oxford Street, Hyde Park, and many other landmarks that make up London's beautiful center! After a day of shopping and sightseeing, recharge with a cocktail at the hotel's trendy bar. When your stomach starts grumbling, indulge in classic dishes made from locally sourced ingredients at The Grill. This 1930's-themed on-site restaurant serves up breakfast, lunch, and dinner, so stop by for a delicious meal at any time. If you're looking for a quick bite to eat, The Deli is a perfect place to enjoy a simple sandwich or relaxing cup of coffee. Don't forget to enjoy traditional, delicious Afternoon Tea, which is offered at the hotel daily!
As soon as you step into your room, you will forget that London's busiest street exists just around the corner. Unwind in this tranquil retreat of calm and comfort, where luxurious amenities such as blackout curtains, a rainfall shower, free unlimited WiFi, a Smart TV, and a complimentary mini bar will allow you to fall into a state of pure relaxation. 
Thistle Hotel Marble Arch (formerly Amba)
Bryanston Street, Marble Arch
W1H 7EH, London, England

See all packages that include Thistle Hotel Marble Arch (formerly Amba)
Please note that some amenities may be restricted or unavailable due to local ordinances or sanitary best practices.
Thistle Hotel Marble Arch (formerly Amba)
Tranquility, Style, and Accommodation That Goes Above and Beyond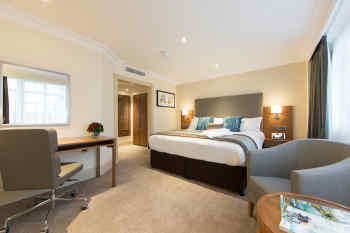 Start over
On a full map