Stratford-Upon-Avon, England
Ettington Park Hotel
Hand-selected accommodation for quality and service
The Ettington Park Hotel in Stratford upon Avon is set in 40-acres of parkland in the Warwickshire countryside, in a verdant valley with the River Stour meandering through it. Situated 6 miles from the center of Stratford-upon-Avon and just a few miles from the start of The Cotswold Way, this spectacular Neo-Gothic mansion is a world apart from the hustle and bustle of modern-day life. One of the best loved hotels in Stratford-upon-Avon, Ettington Park Hotel is furnished with exquisite antiques, hung with fine paintings, and decorated with dozens of friezes that trace its centuries of tradition and heritage.
Ettington Park Hotel
Stratford-upon-Avon
CV37 8BS, Stratford-Upon-Avon, England

See all packages that include Ettington Park Hotel
Please note that some amenities may be restricted or unavailable due to local ordinances or sanitary best practices.
Stratford-Upon-Avon, England
Ettington Park Hotel
Hand-selected accommodation for quality and service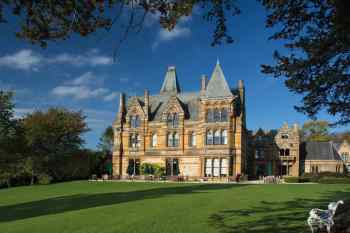 Start over
On a full map