Step from a historic stone hotel to the ground of an ancient palace
A beautiful 19th century stone building, the Hotel de l'Horloge doors open directly onto the Place de l'Horloge in Avignon. The hotel is in an excellent location: the base of the city's historic center. While enjoying the gentle elegance of the rooms on your down time, you can spend the rest of your vacation visiting busy squares, magnificent town houses, art galleries, and antique shops.
Also suitable for business trips, the hotel offers a light yet well-equipped meeting room, air-conditioning and heating for comfort in any weather, and a calming, collected atmosphere for relaxation for any style of guest. 
Hotel de l'Horloge
1 Rue Félicien David
84000, Avignon, France

Hotel de l'Horloge
Step from a historic stone hotel to the ground of an ancient palace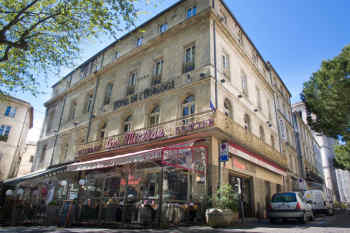 Start over
On a full map