Upscale hotel in a 16th-century Jesuit school
Le Cloitre Saint Louis is housed in a 16th-century structure which started its life as a Jesuit Seminary. Lovingly restored, this Avignon hotel is a balance of history and modern convenience. Guest room amenities include air conditioning, minibars, complimentary newspapers, desks and direct-dial phones. Bathrooms feature bathroom TVs, bathroom phones, and hair dryers.
Take a dip in the seasonal outdoor pool and lay out on one of the lounge chairs. The on-site restaurant, with its monastic setting, serves refined meals in a peaceful surrounding. Set under an arching walkway, in summer the glass around the walkway comes down and the large garden is transformed into the most beautiful terrace in town.
Le Cloitre Saint Louis
20, Rue du Portail Boquier
84000, Avignon, France

Le Cloitre Saint Louis
Upscale hotel in a 16th-century Jesuit school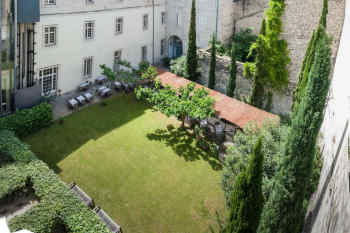 Start over
On a full map