Hotel ibis Paris Gare du Nord Chateau Landon
Air-Conditioned Public Areas
Internet Access (Free Wi-Fi, Dial-Up)
A pleasant, peaceful stay in the north of Paris
Discover the magic of Paris from this elegant hotel, located right near the Gare du Nord and Gare de l'Est train stations. Nestled on a charming corner in the north of Paris, you'll find contemporary decor, a beyond-friendly staff, and luxurious accommodations. You'll also be within easy reach of Paris' most iconic attractions, such as the Louvre, the Champs Elysees, the Eiffel tower, and more! 
Settle into your stylish room, which boasts flat-screen TV, WiFi, a sparkling bathroom, air conditioning, and other modern amenities. Enjoy ample space and sprawl out on your large, cozy bed. After a quick nap, head to the trendy bar and unwind with a glass of local French wine!
Hotel ibis Paris Gare du Nord Chateau Landon
197-199 Rue la Fayette
75010, Paris, France

See all packages that include Hotel ibis Paris Gare du Nord Chateau Landon
Please note that some amenities may be restricted or unavailable due to local ordinances or sanitary best practices.
Hotel ibis Paris Gare du Nord Chateau Landon
A pleasant, peaceful stay in the north of Paris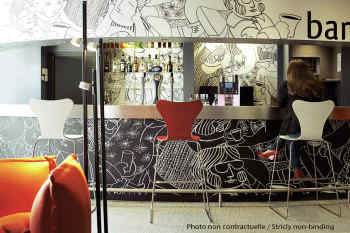 Start over
On a full map