Royal Madeleine Hotel & Spa
Childcare/​Babysitting Services*
Dry Cleaning/​Laundry Service*
Contemporary class in Paris' Opera District
Step into trendy sophistication at this quintessentially Parisian hotel. Upon entering the Royal Madeleine Hotel, you'll notice stunning decor - a mix of rich jewel tones, antique metals, wooden furniture, and eclectic accents. Think: mid-century modern with an artsy twist.
Nestled in the heart of Paris' 8th arrondissement, the Opera district, this elegant hotel makes a perfect home base for your Parisian adventure. Just a 15-minute walk to the Louvre and Tuileries Garden, the Royal Madeleine is easily accessible by the Metro. 
Open the door to your luxurious room and find Wi-Fi, TV, plush bedding, L'Occitane products, and much more. In the mood to relax? Head down to the zen spa and steam all your stresses away in the sauna. Why not take a dip in the heated pool or rest in the herbal tea room? Keep up your workout routine at the on-site fitness center - so you can make more room for pastries and baguettes! Speaking of food, treat yourself to a lovely lunch or a classy cocktail at the Royal Madeleine's Restaurant ROYAL.
Royal Madeleine Hotel & Spa
29, Rue de l'Arcade
75008, Paris, France

Royal Madeleine Hotel & Spa
Contemporary class in Paris' Opera District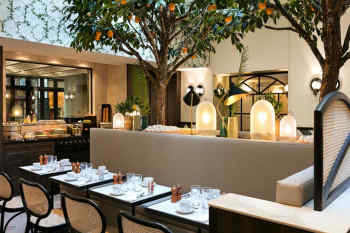 Start over
On a full map