Peaceful accommodation in Karterados village
Set in the tranquil village of Karterados, Nikolas Hotel is the ideal place to enjoy the cosmopolitan yet relaxing life of Santorini. Nikolas Hotel benefits greatly from its proximity to Fira, the busy hub and capital town, and serves as an excellent basis to explore the beauty and magic of Santorini (Thira).
Wake up to the Messaria plain and the deep blue Aegean Sea from 31 rooms with private balconies or terraces. Most of the rooms are double but single, triple and quadruple rooms are also available. All rooms offer air conditioning, satellite TV, fridge, and a rich buffet breakfast served daily in the breakfast room. The hotel offers excellent facilities including a gorgeous swimming pool with spacious terrace, sun beds, umbrellas and a bar, communal verandas and terraces, and shuttle service to and from the Santorini airport or port (on request).
Nikolas Hotel
Karterados 847 00
Santorini, Greece

Nikolas Hotel
Peaceful accommodation in Karterados village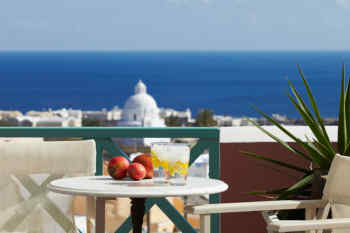 Start over
On a full map