Icelandair Hotel Natura Reykjavik
Meeting/​Conference Rooms
A certified Green Hotel!
Wake up to the sights, sounds and smells of unspoiled nature all around you at this newly refurbished and certified Green Hotel. The Icelandair Hotel Reykjavik Natura features 220 well-equipped, tastefully decorated guestrooms that boast artwork and design inspired by Iceland's natural surroundings - water, geothermal energy, moss, lava and glaciers. Indulge in true Icelandic cuisine at the hotel's very own Satt restaurant, known for its fresh, simply prepared food sourced from the best local farmers and fisherman. Enjoy your meal in the warmly decorated restaurant, or get some fresh air and eat outside on the patio -- don't worry, there are outdoor heaters.
Taking inspiration from Iceland's unique surroundings and natural resources, the acclaimed Soley Natura Spa uses organic products to offer pampering, tailor-made treatments in a luxurious setting. Find peace in the spa's tranquil yoga room or take a pleasant swim in the salt water relaxation pool. When it's time for adventure, you won't have to travel far. Icelandair Hotel Reykjavik Natura is located in the middle of the capital's most popular natural attractions such as Skerjafjordur, Oskjuhlid, and Nautholsvik, so bundle up and get exploring. After a day of activity, grab a hot drink and cozy up in front of the hotel's large fireplace. If you're not ready for the day to be over, just take a look at the hotel's activity calendar and keep the fun going with things like movie nights and bedtime stories. 
Icelandair Hotel Natura Reykjavik
Nauthólsvegur
101, Reykjavik, Iceland

See all packages that include Icelandair Hotel Natura Reykjavik
Please note that some amenities may be restricted or unavailable due to local ordinances or sanitary best practices.
Icelandair Hotel Natura Reykjavik
A certified Green Hotel!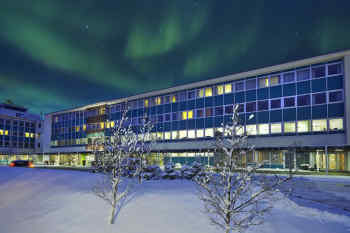 Start over
On a full map