Inchydoney Island Lodge & Spa
Welcoming hotel in coastal Cork
Inchydoney Island Lodge & Spa is situated just outside the colorful heritage town of Clonakilty in West Cork, a region blessed with some of Ireland's most spectacular scenery. This 4-star property overlooks the Atlantic Ocean & Blue Flag Beach and has long been appreciated for its romantic and picturesque location.
Wake to the sound of the waves crashing on the shore, walk hand in hand along the beach or simply enjoy the view from the ocean view balcony or terrace. Inchydoney Island Lodge & Spa combines a stunning location, contemporary accommodation, unique seawater therapies and sumptuous dining to create a most special getaway.
Inchydoney Island Lodge & Spa
Clonakilty
Cork, Ireland

See all packages that include Inchydoney Island Lodge & Spa
Please note that some amenities may be restricted or unavailable due to local ordinances or sanitary best practices.
Inchydoney Island Lodge & Spa
Welcoming hotel in coastal Cork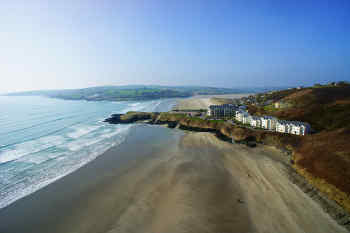 Start over
On a full map