Internet Access (Free Wi-Fi, Dial-Up)
A sophisticated stay in the heart of Como, Italy
Enjoy a relaxing stay in the heart of Como at Hotel Metropole Suisse, family run since 1892. Located in the center of the city overlooking Lake Como, you will be within short walking distance from not only the lake but all of Como's must-see sights like Broletto, Cathedral of Como and Casa del Fascio. The hotel is located across the street from the boat docks and within walking distance of both train stations.
Behind the beautiful 19th-century facade, Hotel Metropole Suisse has 100 rooms decorated with a tasteful European touch, while suites feature stunning views of Lake Como. Enjoy complimentary breakfast and then dinner at Ristorante Imbarcadero, serving fine Italian cuisine in a formal dining salon or outside on the summer lakefront terrace. Metropole's staff will help you organize excursions by foot or car, restaurant reservations, boat trips and everything else this enchanting area has to offer. 
Hotel Metropole Suisse
Piazza Cavour 19
22100, Como, Italy

See all packages that include Hotel Metropole Suisse
Please note that some amenities may be restricted or unavailable due to local ordinances or sanitary best practices.
Hotel Metropole Suisse
A sophisticated stay in the heart of Como, Italy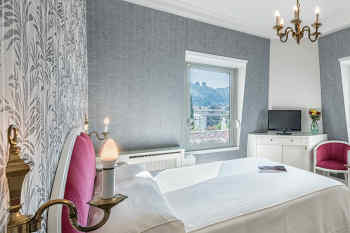 Start over
On a full map