Historic and beautiful Italian property.
The Hotel Brunelleschi originates from the recovered invaluable historic structures of the ancient tower named "Pagliazza" and the medieval church of San Michele in Palchetto. The spaces have been kept unchanged and enriched by various works of art by local antiques of great value and beauty, and today make up the entrance and reception area of this boutique hotel listed in the register of Florentine historical edifices. For those who love history and architecture, the hotel's very own private museum, features exhibits unveiled during the reconstruction project, is a moment not to be missed. The hotel boasts 96 spacious and elegant guestrooms and suites, with views of the charming Via dei Calzolari or picturesque Piazzetta del Giglio, and all the modern conveniences - including complimentary Wi-Fi. Guests will enjoy the state-of-the-art fitness center, and the outstanding dining options - which include the beautifully crafted Restaurant Santa Elisabetta (intimate and partly hidden by the original byzantine tower of the hotel), and the Tuscan delicacies of Osteria della Pagliazza. 
Hotel Brunelleschi
 Piazza Sant'Elisabetta, 3
Florence, Italy

Hotel Brunelleschi
Historic and beautiful Italian property.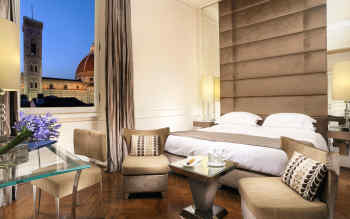 Start over
On a full map