Towers Hotel Stabiae Sorrento Coast
Sprawling property on the majestic coast
Towers Hotel Stabiae Sorrento Coast eschews the ordinary and embodies the magnificent. Transformed from an old cement factory to the four-star retreat is it today, the property is named for its towers that soar above the coastline and beckon visitors to surrender to its charms. A bastion of hospitality, the hotel is cradled between the Gulf of Naples and the Sorrento Peninsula.
Peruse the Wellness Center Spamarine menu to choose from an assortment of massages, body and facial treatments, or beauty treatments. Then, relax in the wellness area which features a hydro-jet pool, herbal tea corner, sauna, Turkish bath, cold grotto, and a relaxing area. Satisfy your craving for Mediterranean gastronomy at Gouache, which serves breakfast, lunch, and dinner. Should you wish to treat yourselves to deluxe fine dining on a magnificent terrace over the entire Gulf of Naples, don't forget to try Blu Stone Restaurant (part of the same Hotel's ownership) only a 5-minute walk from the hotel. A special 10% discount is reserved for the hotel's guests.
Drink in the sea views at sunset over a cocktail from Acquerello bar and enjoy daily sunbathing by the hotel's private beach and infinity swimming pool (open seasonally). High-speed WIFi internet connection is available for free and private daily shuttle bus running at scheduled times throughout the day (at a charge). Book your daily sea excursions (leaving directly from the hotel's private pier – available seasonally) or discover the most beautiful nearby places (Pompeii, Mount Vesuvio, Herculaneum, the Amalfi Coast, Naples) with a wide range of ground excursions.
Towers Hotel Stabiae Sorrento Coast
S.S Sorrentina 145 . Km.12.400
Sorrento, Italy

See all packages that include Towers Hotel Stabiae Sorrento Coast
Please note that some amenities may be restricted or unavailable due to local ordinances or sanitary best practices.
Towers Hotel Stabiae Sorrento Coast
Sprawling property on the majestic coast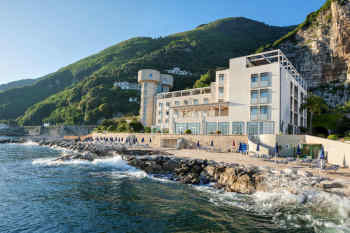 Start over
On a full map