Villa Pace Park Hotel Bolognese
Classic hotel near Venice, Italy
Villa Park Hotel Bolognese is surrounded by a magnificent park which provides a pleasant, relaxing welcome to its guests. With an atmosphere that combines modern innovation with classic decor, it offers 95 spacious air-conditioned guestrooms, Wi-Fi coverage throughout the hotel, a scenic outdoor swimming pool with Jacuzzi, as well as a sauna, Turkish bath and solarium. The renowned and refined Bolognese Restaurant and Veranda is surrounded by the beautiful park, and keeps the culinary tradition of Treviso alive by featuring local specialties with a large wine selection.
Set in a historic 19th-century building in the middle of rich parkland, Villa Pace Park Hotel Bolognese is just outside Treviso and a 20-minute drive from Venice. This 4-star hotel offers free outdoor parking and a summer pool with hot tub. Park Hotel Bolognese features a new, renovated wing, which is connected to the main building by panoramic corridors overlooking the park. The spacious rooms feature parquet floors, classical or modern furnishings, and a satellite TV with Sky channels. Some rooms have e hydromassage shower. Free WiFi access is available in public areas. The hotel's relaxation area includes a Turkish bath and a sauna. The on-site restaurant is open to the public and features an outdoor veranda. The lounge bar serves a variety of drinks and snacks. Breakfast is buffet style.
Villa Pace Park Hotel Bolognese
Str. Terraglio, 175
Treviso, Italy

See all packages that include Villa Pace Park Hotel Bolognese
Please note that some amenities may be restricted or unavailable due to local ordinances or sanitary best practices.
Villa Pace Park Hotel Bolognese
Classic hotel near Venice, Italy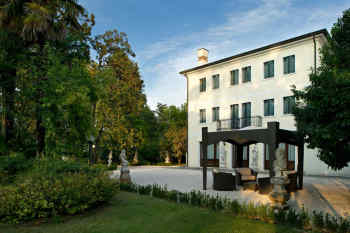 Start over
On a full map