Swimming Pool (Indoor/​Outdoor)
Stay in your own private home in the Tuscan countryside
Nestled in the heart of Tuscany, Il Borro Farmhouse is only a short drive from Florence, Siena and Arezzo, making it an excellent location for taking day trips through Italy's countryside. 
Set on a 1,000-year-old castle estate that spans over 700 acres, Il Borro Farmhouse has ancient and mysterious origins, now lost in the mists of time. Its location lies in the basin of the Upper Valdarno, a large natural floodplain carved by the passage of the Arno River and bordered by the Pratomagno ridge, the Apennine Mountains and the hills of Chianti. 
All of Il Borro's five farmhouses offer kitchens and private gardens. Dining on site is an especially unique experience, with the Tuscan Bistro and the Osteria del Borro serving superb Italian cuisine. The estate runs a substantial program of activities horse stables, wine cellars with available tastings, and cooking classes. In the heart of the estate is a wellness spa, housed in a classical Tuscan building, catering to the needs of all travelers, from overall well-being to beauty, as well as mental and physical fitness and nutrition.
Il Borro Farmhouse
Località Borro, 1
Arezzo
52024, Tuscany, Italy

Il Borro Farmhouse
Stay in your own private home in the Tuscan countryside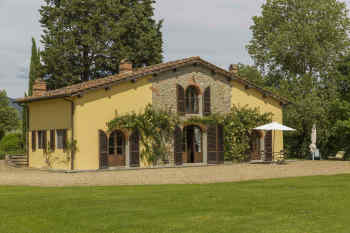 Start over
On a full map