Dry Cleaning/​Laundry Service*
Elegant tradition meets contemporary comfort
Step into elegance at this beautiful hotel! Located about 1 mile from Barcelona's most popular landmarks, Hotel Derby is surrounded by quaint streets of unique shops and authentic restaurants. Walk into the impressive lobby and find a rich collection of Catalan art complemented by wooden furniture. Check-in with the friendly 24-hour reception team, then head up to your room. Open the door to classy decor, comfortable beds, crisp air conditioning, and flooding natural light. Enjoy modern amenities like flat-screen TV and free WiFi! In need of some energy? Treat yourself to a bite at Derby's onsite coffee shop and bar.
Derby Hotel Barcelona
Carrer de Loreto, 21
08029, Barcelona, Spain

See all packages that include Derby Hotel Barcelona
Please note that some amenities may be restricted or unavailable due to local ordinances or sanitary best practices.
Derby Hotel Barcelona
Elegant tradition meets contemporary comfort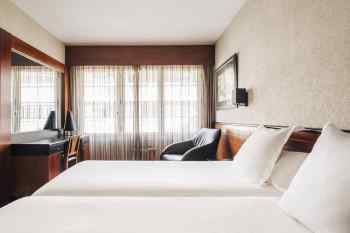 Start over
On a full map