Internet Access (Free Wi-Fi, Dial-Up)
Meeting/​Conference Rooms
Stylish Elegance Meets Beatles-Inspired Funk
Immerse yourself in elegant decor, groovy vibes, and musical history at this uniquely sophisticated Beatles-inspired hotel. Housed in the magnificent Grade II listed Central Buildings dating back to 1884, this beautifully restored hotel is steeped in history. All 110 rooms are individually designed around the contours of the original building and furnished with specially commissioned Beatles-inspired artwork.
Indulge in a delicious meal at the classy on-site Blake's Restaurant, named after the celebrated pop artist Sir Peter Blake who created the iconic artwork for the Sergeant Pepper album cover. Blake's brigade of chefs have designed a sophisticated, classic British menu using fresh, locally sourced and organic produce. As one of Liverpool's premier destinations, Bar Four is the perfect combination of chic and stylish luxury, where you can relax on sumptuous leather armchairs and surround yourself with original Beatles artwork, beautifully adorned on crafted wood-paneled walls. 

Hard Days Night Hotel
Central Buildings, North John Street
L2 6RR, Liverpool, England

See all packages that include Hard Days Night Hotel
Please note that some amenities may be restricted or unavailable due to local ordinances or sanitary best practices.
Hard Days Night Hotel
Stylish Elegance Meets Beatles-Inspired Funk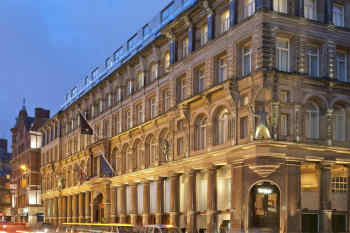 Start over
On a full map