Lake views and cozy apartments available for your stay in Chile
Take a stroll from the beach right up the front of your hotel, Canaba del Lago, which offers stunning panoramic views of Puerto Varas as well as the volcanoes in the area. Guests can enjoy free Wi-Fi, an on-site restaurant, a heated indoor pool, a fitness center, a daily buffet breakfast, drinks at the hotel bar, and an array of spa treatments.
Rooms come with more than just amenities, they come with mesmerizing views over the water. They also provide a private bathroom, cable TV, a safe, and a minibar. Apartments are also available with lake views, and they come with the addition of a fully-equipped kitchen, dining area, a sofa bed, cable TV, and a balcony.
Cabana del Lago
Klener 195
Puerto Varas, Chile

Cabana del Lago
Lake views and cozy apartments available for your stay in Chile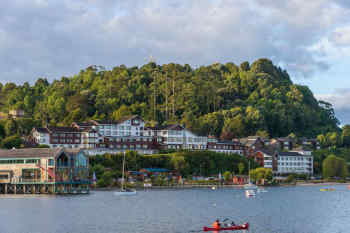 Start over
On a full map