Internet Access (Free Wi-Fi, Dial-Up)
The perfect gateway to discover Costa Rica's national parks, waterfalls, coffee fields and local artisans
Immerse yourself in greenery and escape to peace, serenity, and the true beauty of Costa Rica. Chayote Lodge presents a new lodging concept, where the unique combination of culture and nature meet to share with its guests one of the most valuable treasures of Costa Rica: its authentic lifestyle and culture. It features only 12 spacious bungalows, each with a private terrace, WiFi, and breathtaking views of the Poas, Barva, and Iraza Volcanos, as well as the Central Valley and the Nicoya Gulf in the Pacific Ocean, seen on clear days.
Inspired by the rich coffee culture of the region, each nook of the property resembles a piece of the coffee picker's story and their lifestyle. Moreover, Chayote Lodge's architecture and design integrates the most noteworthy elements of the coffee culture. For instance, the bungalows will look like the traditional Coffee Receiving Stations known locally as "Recibidores". The main building of the lodge offers an intimate fireplace, a fusion cuisine restaurant that mixes local flavors with international dishes, a terrace cafe and a popular bar where guests have the opportunity to interact with the locals and learn about their traditions.
Indulge in mouthwatering Costa Rican cuisine while gazing out at picture-perfect views of Central Valley and its volcanic range, the Gulf of Nicoya, and the green mountains that surround the property. Feel welcomed by the warm atmosphere of Quelites Restaurant, or enjoy the pleasant breeze at the terrace cafe! After dinner, cozy up around the main fireplace, unwind with a drink, and look through priceless photos from your day. 
Chayote Lodge
Llano Bonito, 141
Provincia de Alajuela
Naranjo, Costa Rica

See all packages that include Chayote Lodge
Please note that some amenities may be restricted or unavailable due to local ordinances or sanitary best practices.
Chayote Lodge
The perfect gateway to discover Costa Rica's national parks, waterfalls, coffee fields and local artisans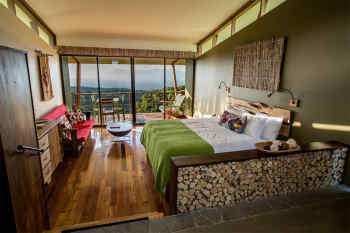 Start over
On a full map