Internet Access (Free Wi-Fi, Dial-Up)
A modern haven in the heart of the jungle
Experience the cultural accents of a safari lodge blended with the traditional luxury of a Guanacaste ranch. Escape to the Rancho Humo Estancia, a relaxing retreat filled with artsy furniture, lush jungle grounds, breathtaking views, and modern amenities. Explore nearby trails, watch unforgettable sunsets, and visit the on-site lagoon, home to birds, crocodiles, caimans, green iguanas, and more.
Open the door to your spacious room and find flat-screen TVs, WiFi, air-conditioning, a coffee-maker, and more. Take a nap on your large comfy bed, rejuvenate with a rain shower, and gaze out at beautiful views of vibrant greenery,
Take in the beauty of the vast countryside as you soak up the warm Costa Rican sunshine on the hotel's sundeck. Relax with a refreshing drink in-hand or jump in the sparkling pool and make a splash! Pamper yourself with a decadent spa treatment, then unwind in the lobby lounge. Enjoy a complimentary tour of Rancho Humo's wetland reserve in the hotel's safari vehicle. Look out for goat, deer, cattle, and other friendly faces! Indulge in delicious cuisine at the trendy on-site restaurant, then feast your eyes on a picture-perfect sunset.
Rancho Humo Estancia
Río Tempisque
Guanacaste Province
Nicoya, Costa Rica

Rancho Humo Estancia
A modern haven in the heart of the jungle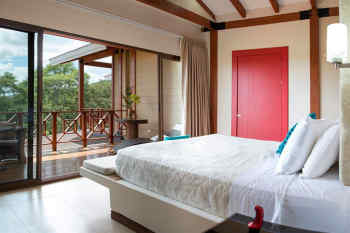 Start over
On a full map