SarapiquiS Rainforest Lodge
Internet Access (Free Wi-Fi, Dial-Up)
Beautiful grounds, relaxing atmosphere
Sarapiquis Rainforest Lodge is more than a hotel, it is a total experience. Built as a 15th-century Pre-Columbian village, it is unique in its kind. Guests will be swept away by its exquisite decor: antiques, garden fresh flowers, and an overall Hispanic Colonial and Indigenous atmosphere. The restaurant and its romantic terrace reveal sweeping views of the Sarapiqui River and the Rainforest below and the inviting Botos Waterfall and Pool, only footsteps away,

SarapiquiS Rainforest Lodge
Heredia Province
Sarapiqui, Costa Rica

See all packages that include SarapiquiS Rainforest Lodge
Please note that some amenities may be restricted or unavailable due to local ordinances or sanitary best practices.
SarapiquiS Rainforest Lodge
Beautiful grounds, relaxing atmosphere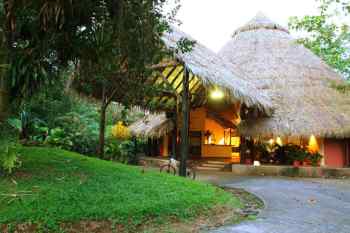 Start over
On a full map