4-star resort beachfront in Montego Bay
The Hotel Riu Ocho Rios enjoys a beachfront location in the splendid Mammee Bay, in Ocho Rios, Jamaica, surrounded by thick woods and waterfalls. The exclusive 24h All Inclusive system offers you many high quality services. If you're looking for holidays to relax and escape stress, this complex includes a fresh water swimming pool, a Jacuzzi, solarium terrace, gym, sauna and the Renova Spa wellness center with a range of different treatments and massages. Not forgetting the vast beach right outside the hotel which is ideal for sunbathing.
Although the hotel is in a quiet area, in the vicinity of the complex you have the opportunity to try out many sports and activities. There is an entertainment program that you can enjoy as a family, couple or with friends. Windsurfing, sailing, kayaking, snorkeling, table tennis, diving and volleyball are just some of the possibilities you can choose from, not to mention golf on the nearby course. You will never go without a drink or some food, the hotel hosts 6 restaurants and 7 bars.
Hotel Riu Ocho Rios
Mammee Bay Ocho Rios St Ann
Ocho Rios, Jamaica

See all packages that include Hotel Riu Ocho Rios
Please note that some amenities may be restricted or unavailable due to local ordinances or sanitary best practices.
Hotel Riu Ocho Rios
4-star resort beachfront in Montego Bay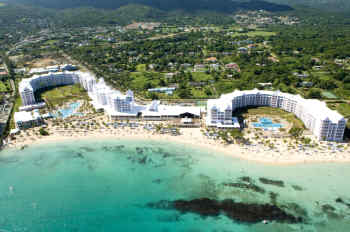 Start over
On a full map