All-inclusive modern resort in sunny Cancun
Situated on the white sandy beaches overlooking the Caribbean, the 5-star Hotel Riu Cancun is the perfect place for enjoying your vacation in Cancun. Guests will enjoy high-quality service with excellent facilities including four swimming pools, six restaurants, five bars, gym, sauna and the "Renova Spa" wellness center with a range of different treatments and massages. This 24-hour all inclusive resort includes all meals and snacks including buffets and a la carte dining, plus snacks all and drinks all day!
There is a tennis court and entertainment for all ages, including the RiuLand program for children and entertainment options day and night for the adults. You can watch shows, listen to live music, enjoy water sports, and dance to excellent music in the "Pacha" club at night, plus all taxes and gratuities. Book tours to Tulum, Chichen Itza, and Isla Mujeres.
Hotel Riu Cancun
All-inclusive modern resort in sunny Cancun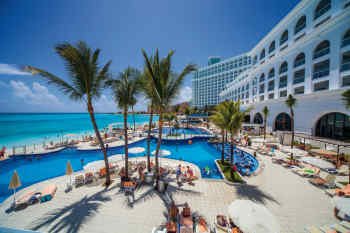 Start over
On a full map