Ramada Hotel & Conference Centre
Comfortable hotel located off of Highway 97 in Kelowna
Ramada Hotel & Conference Centre is situated just off of Highway 97 in Kelowna. Every guest room is furnished with a coffee/tea maker, television, and free WiFi. The hotel features a swimming pool, hot tub, fitness center, garden, and onsite liquor store. At Mickies Pub, you can enjoy a meal and a cocktail while you play billiards or watch sporting events on one of three televisions. Perkins Restaurant and Bakery is also onsite, serves breakfast, lunch, and dinner, and is family-friendly. There are hundreds of shopping and dining options surrounding the hotel. Guests can enjoy the close proximity to many activities, including golfing, hiking, ice skating, and much more.
Ramada Hotel & Conference Centre
2170 Harvey Ave
V1Y 6G8, Kelowna, Canada

See all packages that include Ramada Hotel & Conference Centre
Please note that some amenities may be restricted or unavailable due to local ordinances or sanitary best practices.
Ramada Hotel & Conference Centre
Comfortable hotel located off of Highway 97 in Kelowna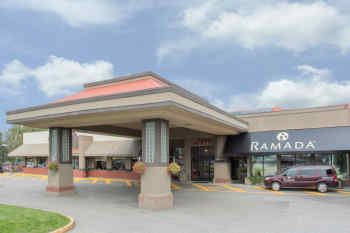 Start over
On a full map