Holiday Inn London - Bloomsbury
Dry Cleaning/​Laundry Service*
Express Check-in and Check-Out
Comfortable hotel with various accommodating features
Welcome to the sleek and ultra-modern Holiday Inn Bloomsbury! This hotel is situated right in the Bloomsbury area and is conveniently located near several attractions including the British Museum, Charles Dickens Museum, and the Grant Museum of Zoology. With a wide array of restaurants and bars within walking distance, visitors can also explore other popular areas of London such as Covent Garden, Soho, and even Westminster! 
The Holiday Inn Bloomsbury offers guests several in-room and onsite amenities. Guests will stay in smart rooms that are equipped with free Wi-Fi, air conditioning, flat-screen televisions, and complimentary tea and coffee makers. Those staying in executive rooms and suites can opt for room service as well. For hotel dining options, visitors are able to enjoy meals at the Callaghan's Pub or hot and cold beverages at the Junction Bar. Other amenities include access to business services for those on work trips!
Holiday Inn London - Bloomsbury
Coram Street
WC1N 1HT, London, England

See all packages that include Holiday Inn London - Bloomsbury
Please note that some amenities may be restricted or unavailable due to local ordinances or sanitary best practices.
Holiday Inn London - Bloomsbury
Comfortable hotel with various accommodating features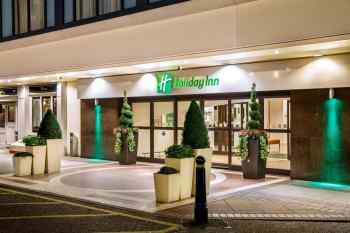 Start over
On a full map