Dry Cleaning/​Laundry Service*
Chic luxury near the Arc de Triomphe
Located close to the Champs-Elysées and the Arc de Triomphe, the Hotel Victor Hugo Paris Kléber offers a convenient location on a quiet street of the 16th arrondissement, in the heart of Paris. The 4-star Victor Hugo Paris Kléber is located in a beautiful Art Deco building, offering you the elegance, charm and the refinement of a private Parisian home. The design of the guestrooms combine various harmonies with all the amenities necessary to a comfortable stay. 
Nestled in a quiet and privileged district, this hotel is walking distance from the Champs Elysées and Trocadero Square, and a 3-minute walk from Victor Hugo Metro station. In a beautiful Parisian building, Hôtel Victor Hugo has all the charm and elegance of a French house. You can glance through Victor Hugo novels in the library and enjoy breakfast in the inner garden. 16th arr. is a great choice for travelers interested in shopping, romance and food
Victor Hugo Paris Kleber
19 Rue Copernic
75116, Paris, France

See all packages that include Victor Hugo Paris Kleber
Please note that some amenities may be restricted or unavailable due to local ordinances or sanitary best practices.
Victor Hugo Paris Kleber
Chic luxury near the Arc de Triomphe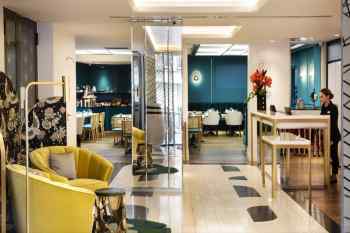 Start over
On a full map