Childcare/​Babysitting Services*
Dry Cleaning/​Laundry Service*
Elegance flows effortlessly from hotel to guest
Adopting a half-timbered style and flowery balconies, the charming 19th-century castle Château de l'Ile & Spa reflects traditional Alsatian architecture in a park-like setting, near the center of Strasbourg. All 62 elegantly decorated guestrooms provide lovely views over the Ill River or the authentic village of Ostwald.
Enjoy the warm, tasteful atmosphere of a 19th century bourgeoisie house in the beautiful dining room of Gourmet de l'Ile, which opens out onto the terrace and the wooded banks of the river. Careful decoration and sophisticated cuisine work in perfect harmony with each other, while Restaurant Winstub de l'Ile has all the charm of an Alsace brasserie with traditional benches, solid rustic chairs, decorated ceiling, and tinted windows.
During the summer season partake in a waterside terrace overlooking the I'lle, where you can enjoy flavorful dishes in the shade of the trees bordering the river, a secret jewel guarding the gateway to Strasbourg. The chateau's spa and wellness center offers pampering treatments, a fitness center, indoor pool, sauna, hammam and Jacuzzi. 

Chateau de l'Ile & Spa
4 Quai Heydt
67540, Strasbourg, France

Chateau de l'Ile & Spa
Elegance flows effortlessly from hotel to guest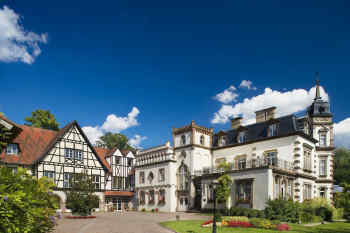 Start over
On a full map