Endless Fun and Modern Luxury As You Cruise Through The Greek Islands
Cruise away in style, luxury, and comfort on the Celestyal Olympia. Gaze out at the cobalt blue Aegean while lounging beside Olympia's sparkling pool on the Hera deck. Enjoy a drink while basking in the warm sun, work all your stresses away in ship's fully-equipped gym, or pamper yourself at the Sana Beauty Center. When you work up an appetite, enjoy mouthwatering cuisine and tasty treats at any of Olympia's three stylish restaurants. Hear your children laugh at the Kids' Club and watch them explore the ship's extensive library - pick up a book for you, too!
You won't only be island hopping on this ship - you'll be bar hopping, too! Dance the night away in the two lounges and share endless laughter at the five bars on board. When your legs are tired, head to your cozy, air-conditioned cabin and feel right at home. Snuggle up in your comfortable bed, watch some TV, and look through priceless photos from the day - there will only be more to come. 
Celestyal Olympia
Athens, Greece

Celestyal Olympia
Endless Fun and Modern Luxury As You Cruise Through The Greek Islands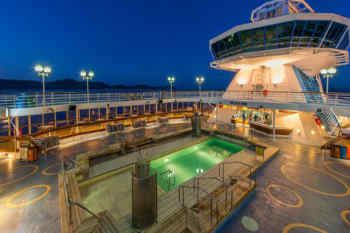 Start over
On a full map