Express Check-in and Check-Out
Serene, Mediterranean-style hotel in Ancient Olympia
Discover Ancient Olympia from this centrally located hotel set in a beautiful Meditteranean landscape with olive trees. You'll be less than a mile from the town center and only 1,650 feet from the archaeological site, the stadium and the rest of the sacred temples. Each of the 147 large, comfortable guestrooms are spread over three wings and three levels and face serene gardens. From every corner of the marbled lobby, enjoy the endless greenery on the open air terrace of the lounge café. Enjoy a relaxing meal at Artemis Restaurant, take a refreshing dip in the large swimming pool and end the night with a cocktail in the chic lobby bar with fireplace.
Hotel Amalia Olympia
Olympia
27065, Olympia, Greece

See all packages that include Hotel Amalia Olympia
Please note that some amenities may be restricted or unavailable due to local ordinances or sanitary best practices.
Hotel Amalia Olympia
Serene, Mediterranean-style hotel in Ancient Olympia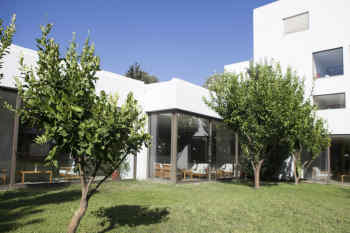 Start over
On a full map