Childcare/​Babysitting Services
Seaside serenity and extraordinary elegance
Immerse yourself in class and elegance at the 4-star Hotel Mediterranean, located on the shore of Rhodes' most popular beach. In just minutes, find yourself at the nearby casino, aquarium, Medieval City, Castle of the Knights, and Ancient Ruins. 
Relax in this hotel that blends stylish decor with functional luxuries to create the ultimate sense of comfort. After checking in with the friendly reception team, open the door to your spacious room and fall into a state of peace and tranquility. Unpack your swimsuit and head for the beach or the sparkling pool! Take a refreshing dip, or lounge in the warm sun with a cold drink in hand. 
When it's time to eat, make your way to The Mediterranean Cafe. Just as refined as it is relaxed, this cafe serves up much more than delicious coffees and snacks. Feast your eyes on stunning views of the Aegean Sea while feeling the pleasant breeze from the outdoor terrace. Later in the evening, treat yourself to a mouthwatering Greek dinner at the Thalassa Restaurant.
Hotel Mediterranean
Cos 35
Rhodes Town
851 00, Rhodes, Greece

Hotel Mediterranean
Seaside serenity and extraordinary elegance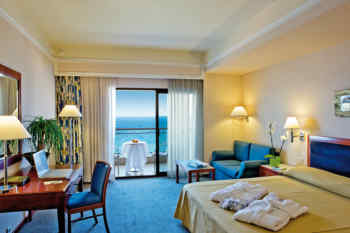 Start over
On a full map