Dry Cleaning/​Laundry Service
Relaxing retreat in the capital of Santorini
Become immersed the fragrant gardens and palm trees that surrounded this elegant 4-star hotel. Perfectly positioned right in the heart of Santorini's capital, Fira, the Daedalus hotel is within walking distance of the main bustling town and the mesmerizing Caldera. As you step inside the lobby, feel welcomed by a friendly reception team and admire the decor that blends traditional Greek style with contemporary trends. 
Settle into your spacious room, sprawl out on your comfortable bed, and use the hotel's WiFi to send photos to friends and family. Unpack your swimsuit, slip on your sandals, and head out to the sparkling pool. Take a refreshing swim, or lounge in the warm sun with a cold drink in-hand. Why not unwind in the sauna or pamper yourself with a hydro-massage? Come on, you're on vacation. 
Hotel Daedalus Santorini
Thera 847 00
Santorini, Greece

See all packages that include Hotel Daedalus Santorini
Please note that some amenities may be restricted or unavailable due to local ordinances or sanitary best practices.
Hotel Daedalus Santorini
Relaxing retreat in the capital of Santorini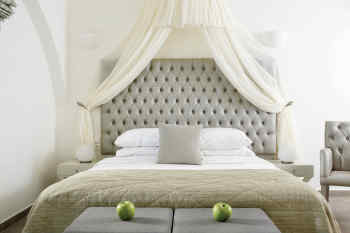 Start over
On a full map