Reykjavik Lights by Keahotels
Unique, Nordic-styled stay inspired by Northern Lights
Individually decorated rooms themed for a specific day in the ancient Icelandic calendar adds Nordic beauty to your stay at the Reykjavik Lights by Keahotels. Along with the experience of staying in a hotel inspired by the Northern Lights, guests can enjoy a bar and lounge, daily breakfast served in the dining room, meeting and banquet rooms, and free Wi-Fi, all accompanied by Iceland's changing lights theme.
The rooms, in addition to their unique theme, also have a flat-screen TV, free Wi-Fi access, air conditioning, ironing facilities upon request, and private bathrooms including a hair dryer, and complimentary toiletries. The expansive Laugardalur park is a short walk away from the hotel, which features a gorgeous Botanic Garden, the Family Park and Zoo, and the largest swimming pool in the city. Other points of interest close to the hotel include the Sun Voyager sculpture which is just under two miles away, as well as buses that can take you to iconic places like Blue Lagoon, Sky Lagoon, Gullfoss and Geysir, and more.

Reykjavik Lights by Keahotels
 Suðurlandsbraut 12 Suðurlandsbraut, 108 
Reykjavik, Iceland

See all packages that include Reykjavik Lights by Keahotels
Please note that some amenities may be restricted or unavailable due to local ordinances or sanitary best practices.
Reykjavik Lights by Keahotels
Unique, Nordic-styled stay inspired by Northern Lights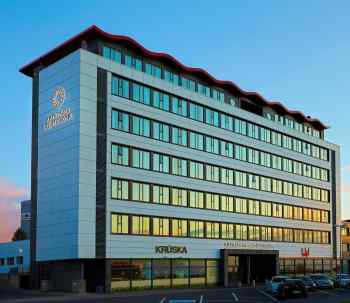 Start over
On a full map