Santiago de Compostela, Spain
Hotel Hesperia Peregrino
Dry Cleaning/​Laundry Service*
Hotel with beautiful gardens
Hotel Hesperia Peregrino is located just ten minutes on foot from the city's old quarter and beautiful cathedral. Enjoy free WiFi, air-conditioning, around-the-clock room service, and more! Restaurant Al Punto offers both local and international cuisine. Sip your favorite cocktail before/and or after dinner at the hotel's bar. Take advantage of the hotel's pool, fitness center, and beautiful gardens!
Hotel Hesperia Peregrino
Av. de Rosalía de Castro, S/N
La Coruña
15706, Santiago de Compostela, Spain

See all packages that include Hotel Hesperia Peregrino
Please note that some amenities may be restricted or unavailable due to local ordinances or sanitary best practices.
Santiago de Compostela, Spain
Hotel Hesperia Peregrino
Hotel with beautiful gardens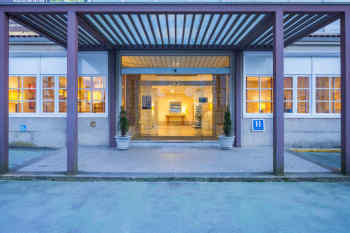 Start over
On a full map