Stay in comfort among the snow with plenty of fun to be found
At the Hotel Europa in St. Moritz, guests can enjoy a meal with a stunning view, lounge in the warmth of the sun terrace, indulge in the spa center, and more. Wi-Fi is available throughout the premises, the bar offers a wonderful selection of drinks, and the hot tub and pool are both indoors with floor-to-ceiling windows to allow a view. With skiing being the popular sport in the area, the hotel also has ski storage on site, as well as a 24-hour front desk, a gift shop, private parking, room service, and dry cleaning services.
Rooms are lodge-like and are outfitted with a TV, a safe, complimentary newspapers, and private bathrooms that include a hairdryer. Some rooms also have a sitting area. The Agno Airport is 55 miles away, while Davos is 22, and Licigno is even closer at only 16 miles away.
Hotel Europa St. Moritz
Via Suot Chesas 9
7512, St. Moritz, Switzerland

Hotel Europa St. Moritz
Stay in comfort among the snow with plenty of fun to be found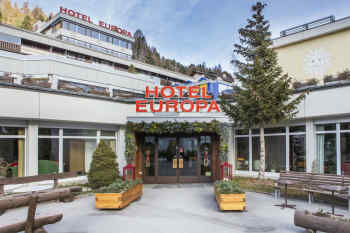 Start over
On a full map