Enjoy a luxury cruise on the Amazon River
Amazon Clipper Cruises is a leading small-ship cruise company that has been operating for 20 years. Offering cruises with weekly regular departures including the Amazon River and Rio Negro, each cruise is a complete experience including the "Meeting of Waters," trips into the rainforest and a good understanding of Amazon culture.
For those wanting the comfort of a luxury ship, the Amazon Clipper Premium offers "simply the best" small-ship cruising in the Amazon. The Premium ship is a 105-ft luxury riverboat consisting of 16 outside cabins with two beds side by side or one queen size bed, private bathrooms with hot showers, air conditioning and safety deposit boxes. Facilities on the ship include a sundeck with panoramic views, covered dining room, entertainment deck with leisure room, library, video facilities, bar and a large covered area for outdoor sightseeing.
Amazon Clipper Premium
Rua Sucupira 249 Cj Kissia
Manaus, Brazil

Amazon Clipper Premium
Enjoy a luxury cruise on the Amazon River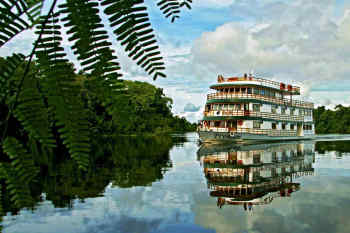 Start over
On a full map