Explore the capital city from the inside out
Step into the rhythm of Santiago's lifestyle by staying at Hotel Fundador, which resides in the capital's traditional Paris-London district downtown. The hotel offers a restaurant, a gym, free Wi-Fi, a sauna, a heated swimming pool, and most importantly, a 4-star reputation.
Rooms come with a safe, a minibar, free Wi-Fi, and some offer plush sitting areas. Just a block away is the Universidad de Chile subway station to downtown, which offers a explosion of culture, old-town exploration, and museums. With the hotel as your base, you can see sights like the top of Santa Lucia Hill, the Plaza de Armas, Palacio de la Moneda, and the Museum of Pre-Colombian Art.
Hotel Fundador
Serrano 34
Santiago, Chile

Hotel Fundador
Explore the capital city from the inside out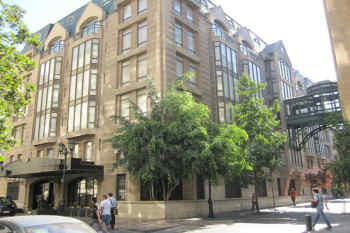 Start over
On a full map