Dry Cleaning/​Laundry Service*
The best of Bogota at your fingertips
Hotel El Dorado is the ideal place to stay during your trip to Bogota. Close to the city's favorite shopping, parks, restaurants, bars, and more, the hotel offers great proximity and even better service. One of the city's most unique hotels, Hotel El Dorado is designed in homage to Lake Guatavita. Bursting in golds, greens, and blues, the hotel and the surrounding property are steeped in the Legend of El Dorado. Whether you're sipping a hot cup of Colombian coffee or investigating the cuisine at the hotel's two restaurants, you're sure to find something to satisfy your palate.

Hotel El Dorado Bogota
Cl. 95 #13 - 66
089976, Bogota, Colombia

See all packages that include Hotel El Dorado Bogota
Please note that some amenities may be restricted or unavailable due to local ordinances or sanitary best practices.
Hotel El Dorado Bogota
The best of Bogota at your fingertips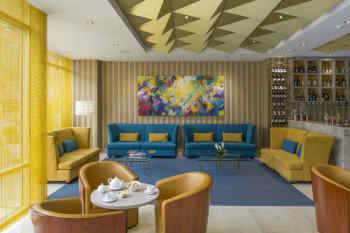 Start over
On a full map