Eco-resort nestled in the Panamanian rainforest
Situated in the Soberania National Park, Gamboa Rainforest Resort is world's away from the hustle and bustle of Panama City. Located just 30 minutes outside the city, Gamboa lies at the meeting place of the Chagres River and the Panama Canal. Experience the unspoiled beauty of the Panamanian forest up close!
Each of the well-appointed, eco- lodge-style rooms and suites offer an authentic and relaxing escape from everyday life. Boasting views of the river, garden or tropical style pool, the 137 guest rooms and 27 suites feature complimentary Wi-Fi, 24-hour room service and mini refrigerators. Rainforest activities at the hotel include boat tours, aerial tram rides, visits to indigenous villages, and more. Also on-site is a spa and three restaurants.
Gamboa Rainforest Resort
Corregimiento de Cristobal IA 5
Panama City, Panama

Gamboa Rainforest Resort
Eco-resort nestled in the Panamanian rainforest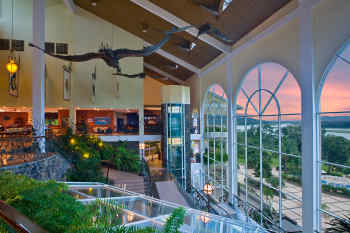 Start over
On a full map