The Westin Playa Bonita Panama
Childcare/​Babysitting Services
Luxury beachfront resort in Panama City
The Westin Playa Bonita Panama is just steps from the golden sands and blue waters of the Pacific Ocean. Visit the famous Miraflores Locks, Casco Antiguo, a UNESCO World Heritage Site, and the scenic Amador Causeway easily from this luxurious 4-star hotel.
The Westin offers guestrooms overlooking tropical rainforests, the Panama Canal, and the Bridge of the Americas, plus private balconies, pillow-top mattresses, and spa-like bathrooms. The hotel boasts four breathtaking beachfront pools providing a sun-baked escape overlooking the Pacific and a private white sand beach. Every day the resort hosts activities ranging from salsa lessons to kayaking to beach volleyball. Venture further into the area with a tour of the rainforests or Miraflores Locks. Personal touches and thoughtful services go a long way in ensuring you have a relaxing, fun, and memorable stay.
The Westin Playa Bonita Panama
Km 6 Camino a Veracruz
Panama City, Panama

See all packages that include The Westin Playa Bonita Panama
Please note that some amenities may be restricted or unavailable due to local ordinances or sanitary best practices.
The Westin Playa Bonita Panama
Luxury beachfront resort in Panama City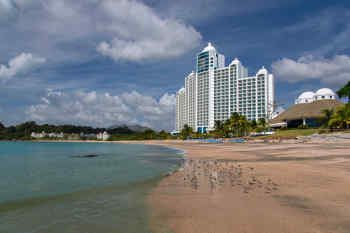 Start over
On a full map