Wyndham Costa del Sol Lima Airport
Dry Cleaning/​Laundry Service*
Express Check-in and Check-Out
Transfer to Lima International Airport in minutes
With a connecting walkway linked directly to Jorge Chavéz International Airport, the Wyndham Costa del Sol is Lima's premier airport hotel. This hotel offers the ultimate in convenience and comfort, whether you're exploring Peru's capital or just passing through. Experience legendary Peruvian hospitality as soon as you arrive with a free welcome drink upon check in. Savor our free breakfast buffet daily and an onsite restaurant and lounge.
Rooms are available either nightly or hourly to recharge during a long layover and feature free Wi-Fi, flat-screen TVs and safes, as well as minibars, and tea and coffeemaking facilities. Enjoy your quiet guest room or relax in our spa and 24-hour fitness facilities, with an indoor pool, Jacuzzi, sauna and steam room, and massage.
Wyndham Costa del Sol Lima Airport
SN, Av. Elmer Faucett 7031
Lima, Peru

See all packages that include Wyndham Costa del Sol Lima Airport
Please note that some amenities may be restricted or unavailable due to local ordinances or sanitary best practices.
Wyndham Costa del Sol Lima Airport
Transfer to Lima International Airport in minutes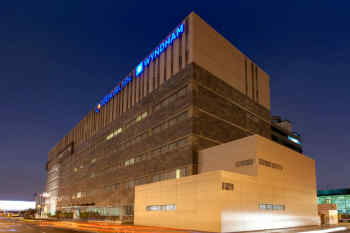 Start over
On a full map