Inkaterra Hacienda Concepcion
Dry Cleaning/​Laundry Service*
Express Check-in and Check-Out
Riverfront lodge deep in the heart of the Amazon
Feel like you're part of the Amazonian jungle at Inkaterra Hacienda Concepcion, located between the Tambopata National Reserve and the shores of the Madre de Dios River. Wake up to the sounds of birds chirping from one of the 19 screened-in ensuite cabañas, perched on stilts, or the six-room casa grande with high ceilings and a rustic thatched roof. Guests can enjoy an astonishing selection of activities led by local explorer guides, including a visit to Lake Sandoval, nature walks, canopy tours and more! The lodge also has an eco-center, dining room and bar, and medicinal botanical garden.
Inkaterra Hacienda Concepcion
Rio Madre de Dios Km 7
Puerto Maldonado, Peru

See all packages that include Inkaterra Hacienda Concepcion
Please note that some amenities may be restricted or unavailable due to local ordinances or sanitary best practices.
Inkaterra Hacienda Concepcion
Riverfront lodge deep in the heart of the Amazon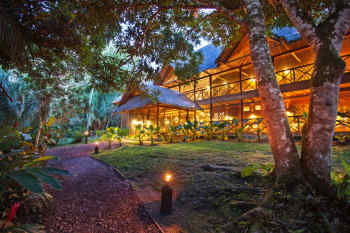 Start over
On a full map