Crowne Plaza Key West - La Concha
Dry Cleaning/​Laundry Service
Express Check-in and Check-Out
4-star hotel on Duval Street
Situated on the vibrant Duval Street in Key West Florida, the Crown Plaza Key West La Concha is an exceptionally well-regarded hotel that offers both luxury amenities and ease of access to nearby attractions. The hotel's feel and essence is one of historic quality, yet modern amenities and touch-ups keep the hotel feeling fresh and exciting. Among those amenities include public free Wi-Fi, air-conditioned rooms, and sleek furniture.
Guests can enjoy the on-site fitness center, spa, and outdoor swimming pool at their own leisure. Comfortable beds and simplistic decoration makes the hotel feel more homelike, whereas premium television and internet access provide you with hours of entertainment. Guests living with disabilities will also find this a great option to stay in Key West, as the rooms throughout the hotel are designed with accessibility in mind. 
Crowne Plaza Key West La Concha's premium on-site restaurant,  430 Duval, offers delicious cuisine that takes inspiration from island-style dishes. The experience at the restaurant combined with the resort's location help make the hotel's mission very clear: deliver an excellent coastal vacation for all guests.

Crowne Plaza Key West - La Concha
430 Duval St
33040, Key West, United States

See all packages that include Crowne Plaza Key West - La Concha
Please note that some amenities may be restricted or unavailable due to local ordinances or sanitary best practices.
Crowne Plaza Key West - La Concha
4-star hotel on Duval Street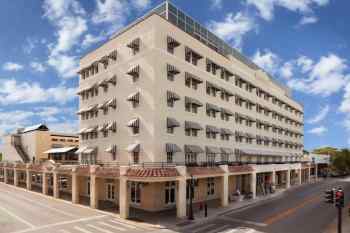 Start over
On a full map